Unibody & Frame Repair
When most customers hear "Frame Damage" it's usually bad news. BUT:
Did you know that most vehicles involved in an accident have some type of "frame" or unibody damage?  As one of the oldest body shops in Phoenix, our highly trained technicians will have your vehicle back to factory specifications…Guaranteed and in black and white. You will receive a print out showing your vehicle's frame is back to factory setting…Now's that peace of mind!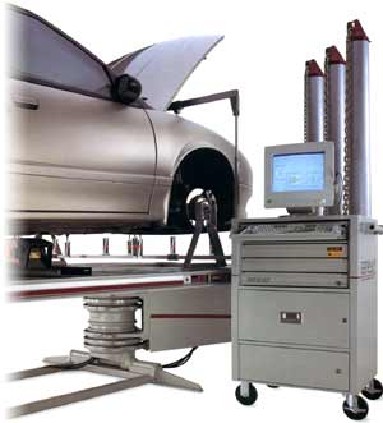 Capitol Collision Repair relies on the accuracy of the Chief EZ Liner II Frame Machine, Chief S21 Frame Machine, and the CAR-O-TRONIC Computerized Measuring System to return your vehicle back to factory specifications.
Both the EZ Liner II and S21 frame machines have independent pivoting towers and portable ramps that allow for frame pulling at 360 degrees. This allows our repair technicians to reverse collision forces gently, utilizing low-equalized pressure, removing the damage, and assuring a fast and accurate repair.
The S21 is designed to accommodate all vehicles from the smallest of compacts to the largest full-size vans and 4WD's and it is capable of outperforming every other system in its class…with leverage to spare.
The EZ Liner II is designed specifically for today's unibody cars and is world renowned for it's accuracy and performance.
With the incorporation of Car-O-Tronic Vision technology, Capitol Collision Repair has invested in the knowledge that each frame repair will not only be right the first time, but we can provide a computerized printout illustrating the same. This evidence is very useful because we can now provide each customer with a computerized printout showing before and after specifications which clearly depict the repaired area of the vehicle.
The Car-O-Tronic Vision is the fastest, most accurate and easiest to use computerized measuring system on the market today! It guides the entire repair process and performs automatic centering, measuring and documentation. It is photo-based and is integrated with the world's largest vehicle database to assure factory accuracy for both full frame and unibody vehicles.
Give us a call to make an appointment 602-253-1630, or Request a FREE estimate.