About Capitol Collision
auto body repair shop
Did you know we are one of the largest family owned auto body repair shops in Phoenix?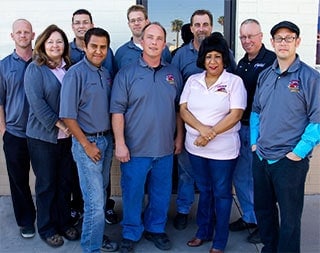 As one of the largest family-owned, auto body repair shops in Phoenix, Capitol Collision Repair has been serving our customers with top quality collision repairs for over 27 years.
We are dedicated to not only extraordinary care in the repair and refinishing of your vehicle, but also unrivaled customer service. From start to finish, your complete satisfaction is our priority.
We understand that being involved in an accident is a traumatic experience and we are here to help. You will have many questions and our staff will take the time to make sure all your questions and concerns are answered.
Our experienced staff will make the entire repair process as simple as possible for you. We will guide you in setting up your claim as well as arranging a rental car, and completing the repairs to your car in a professional and timely manner. We are approved by all the major insurance companies, providing us the advantage of managing your claim process quickly and effectively.
We know that choosing a trustworthy auto body repair shop in Phoenix is not easy. Our past customers have shared their experience with us as Capitol Collision Repair is one of the most reviewed and highest rated body shops in Phoenix. For 27 years we have been a body shop that you can trust and one that you know will be in business when you need us.
Providing safe, accurate, high quality repairs is our commitment to each and every customer. From minor damage to major collision repair, Capitol Collision Repair has the equipment and personnel to make your vehicle look like new again. Our I-CAR trained technicians and state of the art equipment provide accurate measurements to guarantee your vehicle will be returned to its pre-accident condition.
Give us a call to make an appointment 602-253-1630, or Request a FREE estimate.